After a very difficult 2017, the year 2018 marks an upturn for the Nepali hotel industry. However, hotels remain subject to a competitive environment that is still tense. That's why in 2019, more than ever, hotel digital marketing will have a strategic dimension. Consolidating and developing an effective digital marketing strategy will be the best way to overcome new market shares and maximize the profitability of your hotel.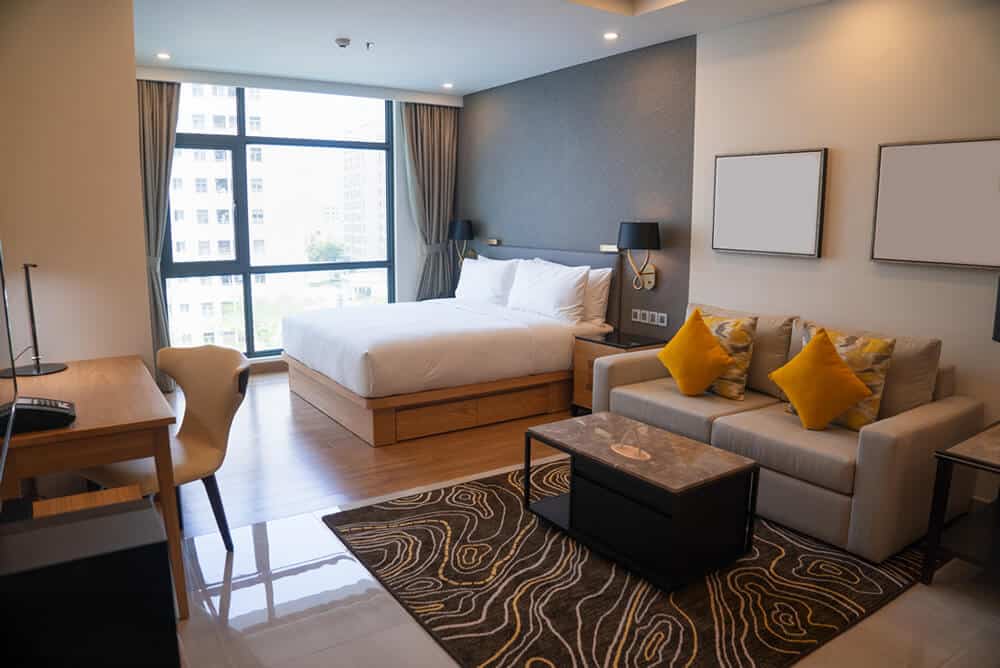 To help you best perform in 2019, we have identified the new trends in hotel digital marketing.
1. Develop customer knowledge
Customer knowledge is at the root of any effective communication and marketing action. New technologies have made it possible to develop numerous devices to collect data on the behavior of Internet users and customers. Having data is one thing but being able to cross them and analyze them is another. Moreover, it is necessary to have adequate tools to translate the results obtained into concrete digital marketing actions.
The Push Marketing and Email Marketing devices are thus an excellent way to collect new behavioral data but also very effective solutions for deploying targeted marketing actions with great responsiveness. In 2019, the hospitality sector acquiring this type of solution will represent an undeniable competitive advantage.
DID YOU KNOW?
Women perform about 70% of the sessions on hotel websites. They make the majority of transactions (62%). Thus 2/3 of the sales are attributed to them. However, men have a higher conversion rate.
---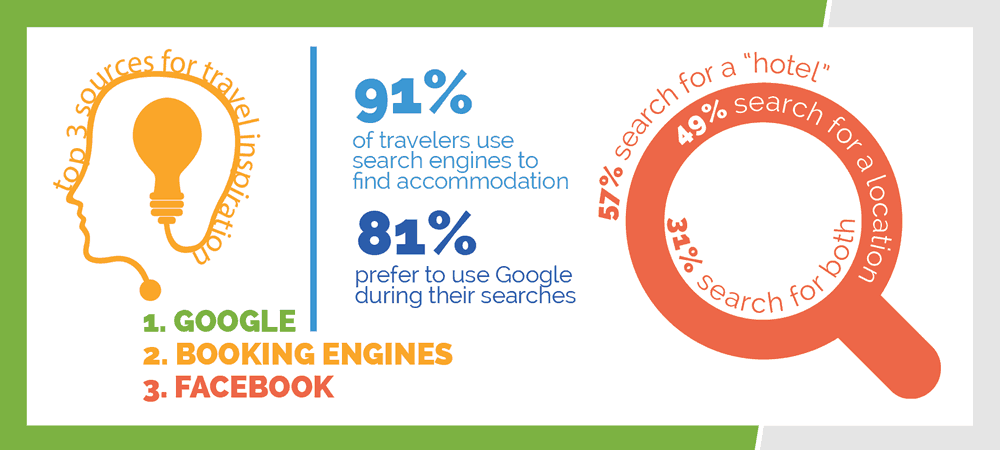 ---
2. Keep the visitor of your site at the center of your strategy
Your website must offer visitors an optimal experience and facilitate their visit so that they easily reach their goal (search for information, reservation etc). So during the design phase of your website you will have to answer the following question: 'What are the expectations and needs of visitors? And NOT what information and messages the hotel wants to deliver?', everything is a matter of perspective.
But make a website offering a UX (acronym for User eXperience designating the overall experience felt by the user when visiting your site) memorable is quite complex because it involves optimizing a large number of parameters (accessibility, content, efficiency, design etc).
Your site should be particularly easy to find (SEO), accessible on all media (responsive), easy to handle (efficient), credible and consistent with the image of the brand (https, webdesign), effective (responding content to questions from visitors) and of course it will have to give desire and confidence (webdesign).
DID YOU KNOW?
88% of consumers do not return to your site after a bad user experience.
3. Talk about 'Experience'
It is no longer just a question of selling a hotel room but of offering a global experience. Today's travelers have the choice between multiple accommodation options and to convince them to come to your home, so you need to offer them more than the technical features of your rooms. You must engage them in the atmosphere of your establishment, enhance the services offered, the human dimension and the neighborhood.
You will be able to achieve this by integrating video, testimonials, original texts that tell a story (storytelling), an events calendar and of-course a design perfectly in line with your brand image and your image. positioning.
DID YOU KNOW?
59% of travelers are more interested in experiences than in material ones.
4. Customize the contents of your site
Customizing your site content based on visitor profile and behavior is one of the most effective ways to increase your conversion rate and is a great way to improve the user experience. So, if you have not done it in 2018, do it in 2019.
With a Push Marketing solution you can display the right messages at the right time and especially the right people. Why offer blind promo codes when you can only book them for users who are reluctant to book? Why leave visitors who have not booked without offering them an advantage? Why not offer special offers tailored to visitors from a particular country? Why not enhance your restaurant with local visitors? Etc.
With a push marketing solution you can create tailor-made experiences in 2019.
DID YOU KNOW?
Nothing annoys customers more than a site where it is difficult to find the desired information (31% of respondents).
5. Valuate your destination more than ever
The destination is the second criterion for choosing a hotel just after the price. Valuing your destination is an effective way to increase the conversion rate of your website.
But today, Internet users expect much more than just a page presenting the region or neighborhood. They want to have geo-location tools, activity bookings, a wide choice of points of interest. So, in 2019, opt for a real Tourism & Leisure module, an online extension of the advice that the concierge could offer of your establishment. This type of solution will be a way to seduce visitors to your site that will help you turn them into customers but also a service that you offered them during their stay.
DID YOU KNOW?
50% of Internet users say that personalized suggestions about destinations and activities encourage them to book.
6. Clearly display your actual room rates
The price criterion is decisive when it comes to hotel reservations. And Internet users are perfectly ready to book live on the hotel's website but provided they are assured of getting the best price. Excluding 86% of hotel customers think to book cheaper on a portal or an OTAs. This explains the constant increase in the share of hotel reservations made by the OTAs.
To effectively combat this trend, displaying room prices clearly on your website is unavoidable. Indeed, you must provide proof to visitors that you offer the best rate guaranteed so that they are encouraged to book live on your website.
In order to make your site a real commercial site, it is also highly recommended to offer an automatic synchronization of all the rates displayed on your site with those of your search engine and to propose a booking calendar which gives an immediate visibility of your room rates.
DID YOU KNOW?
6 out of 10 people admit that with similar guarantees and services, they would prefer to book directly with hotels rather than going through an online travel agency (OTA).
---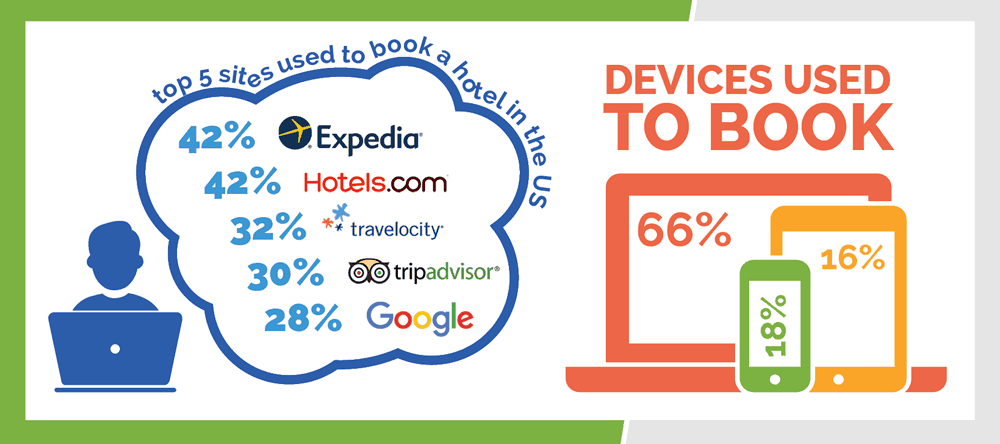 ---
7. Adopt a true Mobile Strategy
Google has announced that 'for the first time, the mobile web has crossed the bar of 50% of users in the 63 countries studied by the Consumer Barometer'. In addition, users are developing a preference for mobile browsing: 'in 62 of the 63 countries surveyed, they say they prefer the smartphone to the desktop to access the Internet'.
A new method of 'Index Mobile First' by Google indexing websites which was launched on a small scale at the end of 2017 and whose deployment was continued in 2018 as well. The impact of this update of the Google algorithm on the SEO of your site is very important. Indeed, if so far, the 'Desktop' index was valued by Google, it is now the 'Mobile' index that will be privileged. In other words to get a good SEO on Google it will now optimize the mobile version of your site.
In conclusion, you will need a website 'Mobile Friendly' both rich in content to be well referenced on Google and perfectly adapted to the constraints of a smartphone navigation. These two cumulative constraints can be contradictory. Indeed, it is not always easy to present on a small screen friendly content large enough to be properly indexed. The ideal will therefore be to have both a responsive website and a specific mobile site.
DID YOU KNOW?
More than 53% of visits to hotel websites are made on smartphones.
8. Invest in Social Ads
Facebook is positioning itself more and more as a medium. As a result, in 2018, there was a significant drop in the share of traffic brought by the preferred social network of Internet users. This trend has been revealed in a study conducted by 'Parse.ly' that tracks referral traffic from more than 2,500 online media sites.
In other words, as Facebook has decreased the scope of 'Free' publications, you will need to invest in advertising to be visible on the #1 social network in the world.
Thus, investing in Social Ads will be an excellent way to develop your reputation and your income in 2019. Indeed, the advanced targeting possibilities offered by Facebook are a major asset for developing particularly effective advertising campaigns.
DID YOU KNOW?
The average click rate on Facebook ads is 0.9%. Add a CTA (Call To Action) and the figure rises directly to 2.85%.
9. Do not forget the essentials: SEO and SEA
Google regularly evolves its algorithm which forces professionals to adopt new SEO techniques. In 2019 it will also be the case. Optimizing the natural referencing of your website should therefore still be at the heart of your digital marketing strategy. Any new position acquired on Google is a tangible prospect of acquiring new customers and increasing your direct bookings.
Combining SEO actions and advertising campaigns SEA (Google Ad) remains this year still the most effective way to develop the income generated by your website. Indeed the SEO impacts the SEA and vice versa. A 2011 Google study reveals that 89% of Google Ad clicks are complementary to organic clicks (SEO). Users clicking on Google Ad campaigns are not the same as those who click on natural results.
DID YOU KNOW?
SEO: reaches 26% of internet users on average
SEA: reaches 9% of Internet users on average
SEO + SEA: reaches 63% of Internet users on average
10. Get started in predictive marketing
In line with these new digital marketing tools, predictive marketing will undoubtedly have a prominent place in 2019. This technique, which consists in anticipating customer behaviors and expectations from the analysis of data collected online, is already used by major e-commerce sites but it should widely become more democratic and enrich.
At the heart of the development of predictive marketing is the data and its analysis of-course. The new technologies make it possible to supplement purely quantitative data with qualitative data based on moods, behaviors. Related to your sector of activity it will cross the data from your booking engine, your opinion systems, your CRM tools, your price tool (Channel Manager) with the analytics statistics of your site but why not also with the weather forecasts to propose to the Internet users the good offer at the right moment.
In conclusion if you want to develop your hotel direct bookings and thus lower the level of commissions paid to intermediaries (OTAs), it is perfectly possible. You only need to develop a digital marketing strategy consistent with your goals and positioning. For this, your digital marketing agency will undoubtedly be your best ally.